Winter Olympics 2018: Full TV schedule, Live stream & TV Channels
 The pride of winning an Olympic medal will be at stake again for hundreds of players participating in 2018 Winter Olympic Games next February. Yes, the Olympic excitement returns next February with the XXIII Olympics Winter Games. Apart from those hundreds of players who'll be sweating it out on the field, the hopes of some millions of fans will be at stake too. The Olympics has always been one of the most prestigious sporting events in the history, and this time also the prestige won't be any less.
Watch the Olympics on TV
The Games will be broadcast on NBC, NBCSN and across the networks of NBC Universal. Detailed TV listings are available on NBCOlympics.com
Here's everything you need to know to binge on NBC's Olympics coverage on Sunday
Where are the 2018 Winter Olympics?
Great place to start. This year's international competition will be held in Pyeongchang, South Korea.
Located just over 100 miles from Seoul, Pyeongchang is actually a county in a northeastern province of South Korea. Seoul is the nation's capital and the home of the 1988 Summer Olympics. Pyeongchang has a population of about 43,000, and its local claim to fame is its average elevation of 700 meters, which apparently offers residents "one of the best places for health, rest and sports in the world."
How to watch on TV
The Olympic Games will be broadcast on various NBC networks. Those include NBC, NBCSN, USA Network.
Monday, Feb. 12
12-1 a.m. — Women's Alpine Skiing (giant slalom gold medal final), NBC (LIVE)
12-1 a.m. — Women's Snowboarding (halfpipe qualifying), NBC (LIVE)
12-1 a.m. — Men's Speed Skating (5000m gold medal final)
1-2:40 a.m. — Curling (mixed doubles semifinal 1), NBCSN
2:40-5:10 a.m. — Women's Ice Hockey: Switzerland vs. Japan, NBCSN (LIVE)
5:10-7 a.m. — Women's Luge (singles competition, Run 1), NBCSN (LIVE)
5:10-7 a.m. — Women's Biathlon (Pursuit gold medal final), NBCSN (LIVE)
7:10-9:30 a.m. — Women's Ice Hockey: Sweden vs. Korea, NBCSN (LIVE)
9:30-10 a.m. — Women's Luge (singles competition, Run 1), NBCSN
10-11 a.m. — Men's Freestyle Skiing (moguls gold medal final), NBCSN
11 a.m.-12:15 p.m. — Women's Ski Jumping (individual normal hill gold medal final), NBCSN
12:15-1:30 p.m. — Men's Biathlon (pursuit gold medal final), NBCSN
1:30-3 p.m. — Women's Speed Skating (1,500m gold medal final), NBCSN
3-5 p.m. — Men's Freestyle Skiing (moguls gold medal final), NBC
3-5 p.m. — Women's Ski Jumping (normal hill gold medal final), NBC
3-5 p.m. — Women's Luge (singles competition), NBC
5-7 p.m. — Ice Hockey (game of the day), NBCSN
5-8 p.m. — Mixed Doubles Curling (semifinal), CNBC
8-10 p.m. — Curling (second of two mixed curling semifinals), NBCSN
8-11:30 p.m. — Men's Alpine Skiing (combined, downhill run), NBC (LIVE)
8-11:30 p.m. — Women's Snowboarding (halfpipe gold medal final), NBC (LIVE)
8-11:30 p.m. — Women's Speed Skating (1,500m gold medal final), NBC (LIVE)
10-11:30 p.m. — Ice Hockey (game of the day, part II), NBCSN
11:30-12:05 a.m. — Men's Snowboarding (halfpipe qualifying), NBCSN (LIVE)
11:30 p.m.-2:40 a.m. — Mixed Doubles Curling (bronze medal match), NBCSN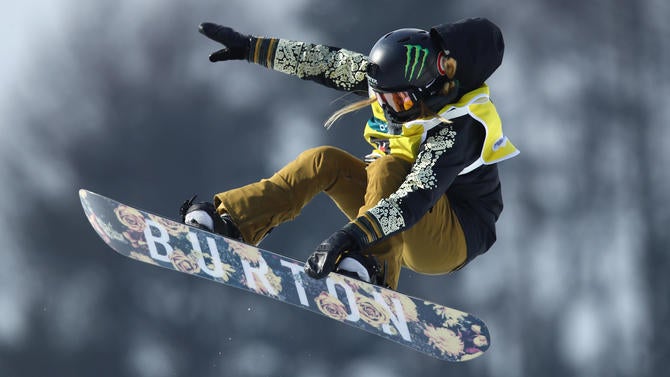 Tuesday, Feb. 13
12:05-2 a.m. — Men's Snowboarding (halfpipe qualifying), NBC
12:05-2 a.m. — Men's Alpine Skiing (combined, slalom run), NBC
12:05-2:40 a.m. — Curling (mixed doubles bronze medal game), NBCSN
2:40-5 a.m. — Women's Ice Hockey: Canada vs. Finland, NBCSN (LIVE)
5-7:10 a.m. — Women's Luge (singles gold medal final runs), NBCSN
5-7:10 a.m. — Cross Country Skiing (men's and women's Individual sprint competition), NBCSN
7:10-9:30 a.m. — Women's Ice Hockey: U.S. vs. Olympic Athletes from Russia, NBCSN
9:30-11:30 a.m. — Women's Luge (singles gold medal final runs), NBCSN
9:30-11:30 a.m. — Cross Country (men's and women's individual sprint gold medal finals), NBCSN
11:30-12:30 p.m. — Men's Speed Skating (1,500m Gold medal final), NBCSN
12:30-2:30 p.m. — Short Track Speed Skating (women's 500m gold medal final, men's 1000m and 5000m relay qualifying), NBCSN
2:30-4:30 p.m. — Mixed Doubles Curling (bronze medal match replay), NBCSN
3-5 p.m. — Men's Speed Skating (1,500m Gold medal final), NBC
3-5 p.m. — Women's Luge (singles gold medal final runs), NBC
3-5 p.m. — Cross Country Skiing (men's and women's individual sprint gold medal finals), NBC
4:30-5 p.m. — Medal Ceremonies, NBCSN
5-7 p.m. — Ice Hockey (game of the day replay), NBCSN
5-8 p.m. — Mixed Doubles Curling (Gold Medal Match), CNBC
8-11:30 p.m. — Figure Skating (pairs' short program), NBC (LIVE)
8-11:30 p.m. — Women's Alpine Skiing (slalom, first run), NBC (LIVE)
8-11:30 p.m. — Men's Snowboarding (halfpipe gold medal final, NBC (LIVE)
8-10:10 p.m. — Figure Skating (pairs' short program), NBCSN
10:10 p.m.-12:30 a.m. — Women's Ice Hockey: Sweden vs. Switzerland, NBCSN (LIVE)